It started with one elephant.
A stuffed animal to mark the life of a new baby we would be adding to our family.
How appropriate we chose an elephant...
An elephant never forgets. Even when the rest of the world moves on...
I will never forget.
I'll never forget all the sweet babies of my friends, who have left this earth too soon...
Noah Benjamin...
Carleigh...
Nate...
Lukas...
Sophie and Ellie...
Aaron...
Jenna Belle...
Hudson...
Noah...
Bryston...
Vayden...
Jasper...
Samuel...
Josiah...
Anna...
And so many other sweet children...
Wyatt's playmates in heaven.
But for the rest of my life, Elephants will forever bring a smile to my face. They somehow make me feel closer to my sweet Wyatt.
Yes, it started with one elephant.
This elephant.
And it's slowly becoming a collection.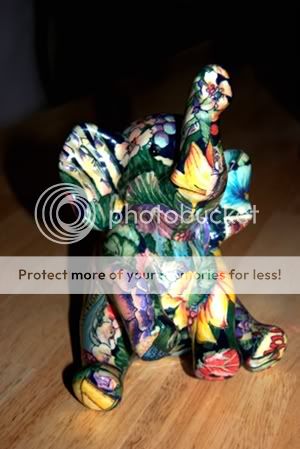 It might seem weird, but really, I don't care... Elephants make me smile! I'll take anything that makes me smile and run with it.