If you are simply wanting to know more about Wyatt's story these posts will be a good start to get yourself caught up.


Introduction
Mr. El E. Phant
Nice to Meet You, Wyatt
Beautiful Moments

If you are interested in getting caught up on my fight to have Wyatt's life recognized in Tennessee, these posts should get you up to date.

Birth Certificate Drama
Birth Certificate Denied
Long Road Ahead
Walking My First Mile
Newspaper Article
Success with Article
A Huge Step Forward
Doors Flying Open
Like He Never Existed
Progress??
Wyatt is Top News Story

Do you want to sign my petition to have the definition of live birth changed in Tennessee? Just click on the button below. You can even grab my button to put on your blog!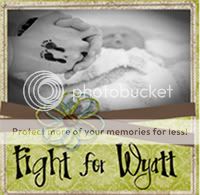 <center><a href="http://www.thepetitionsite.com/1/recognize-life-in-tennessee"><img src="http://i336.photobucket.com/albums/n350/dfinchum/fightforwyattsmall-1.jpg"/></a></center>